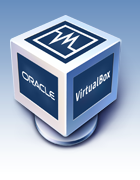 "VirtualBox, the popular, amazing, open-source,
virtualization
software from Sun Microsystems, reached version 3.0.0 a few minutes ago. This major update brings lots of new features, many bugfixes and improvements over previous 2.x versions. The big and breathtaking news is that users can now use Direct3D 8 and 9 games or applications! Moreover, with
VirtualBox 3.0.0
, support for OpenGL 2.0 (only for Linux, Solaris and Windows guests) has been implemented. Another important feature is the new SMP (Symmetrical Multiprocessing) guest support with no more than 32 virtual processors. Without any further introduction, let's have a look at the main fixes/additions in
VirtualBox
3.0.0 for Linux"
Read the full story
here
.